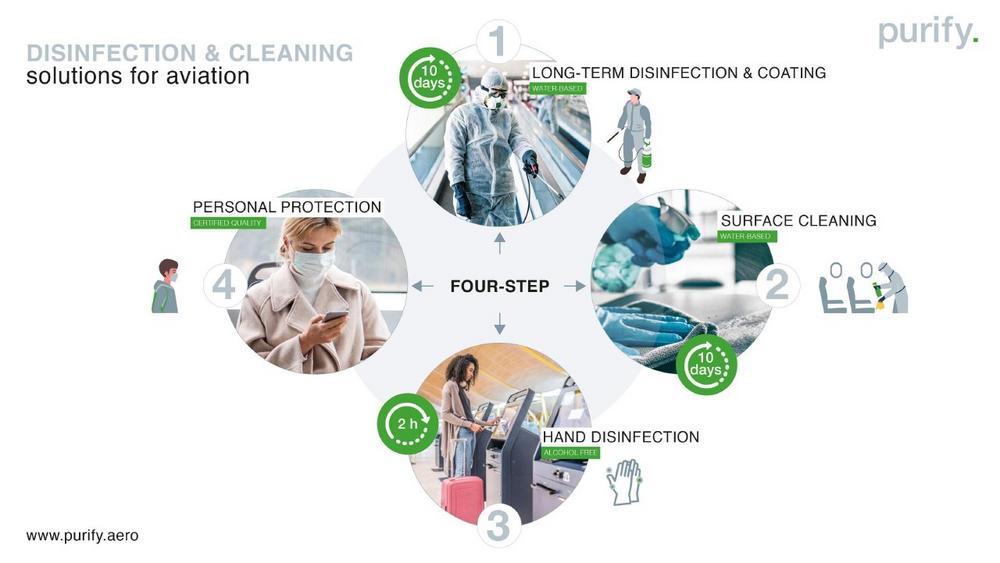 Time is running out for the European aviation industry. The pandemic has decimated the traditional summer holidays. We need to fly to survive and we can only do that once passengers and governments are reassured that it is safe to do so.
A revolutionary new hygiene concept – purify from aviationscouts – allows us to do that. Purify is a four-step process that ensures passengers and crew arrive and depart safely.
Step 1 spreads disinfecting fog around airports and aircraft, which continues to actively disinfect for more than 10 days between treatments.
Step 2 applies the same anti-infective solution topically, treating the most common areas of infection, such as stair hand-rails, elevator buttons and lavatories, for extra hygiene protection.
Step 3 is a six-second hand-disinfection station that provides passengers with more than two hours' protection, but that can be safely reapplied again and again, from when they arrive at the airport, through check-in, travel to their aircraft and the flight itself.
Step 4 involves personal protective equipment, for passengers and crew, that can be branded for ancillary revenue.
The first step involves two new, innovative products: a medical-grade fogger and an active disinfectant. A nebulizer delivers medicine to a patient's lungs in a mist made of extremely small aerosol droplets. The purify fogger takes this a step further and electrically charges the anti-infective liquid when it is sprayed. The resulting cloud has a static charge that attracts it to all nearby surfaces, evenly coating them, not only those facing the technician.
For example, when a hygiene technician sprays a handrail or a bench, an ordinary spray will only coat the surfaces the technician points the nozzle at. The purify system ensures that an anti-infective fog forms around the furniture and is drawn to every surface, even those on the opposite side to the dispensing nozzle. This unique method allows 100 square meters to be covered in less than two minutes.
Meanwhile, the anti-infective not only disinfects what it touches, it continues to do so for up to 10 days between treatments.
"Disinfecting a surface isn't enough," says aviationscouts commercial director, Christophe Hafhouf. "Even if you clean a hospital surgical theatre using conventional disinfectant, by the time you have reached the other side of the room the clean side could already be reinfected. Our German-made and industry-leading anti-infective ensures that even after disinfection, surfaces will stay hygienic for up to 10 days afterwards. This not only keeps people safe, it will also reassure governments that airports and aircraft are safe to keep operating."
For more information on the purify products please visit our shop www.purify.aero!
Über die aviationscouts GmbH
Aviationscouts GmbH, represented by CEO and founder Thomas Bulirsch, operates a successful trading agency for the aviation industry, as well as an online marketplace for buying and selling surplus aircraft passenger seats – aviationgate.com. With over 20 years of expertise in buying and selling aircraft interiors, aviationscouts equally supports sellers and buyers by offering a one-stopshop for interior requirements.
Aviationscouts has over 4,500 square meters of storage capacity for more than 12,000 PAX and an extended shop area in partnership with EIS Aircraft, which operates a permanent repair service at the local facility and headquarters in Lichtenfels, Germany. Hence, aviationscouts has a capacity of up to three narrow body shipsets for the cleaning, repair and refurbishment by using dry ice technology under EASA Part-145 and FAA. Additional services include promotion, logistics, engineering and certification of "As Removed" passenger seats for airlines, leasing companies, MROs and resellers.
Due to the COVID-19 pandemic aviationscouts has partnered up with recognized hygiene specialists and leading manufacturers of cleaners and disinfectants. With the purify four-step hygienic concept, aviationscouts will allow airports and airlines to relaunch operations while also fighting the spread of COVID-19.
Firmenkontakt und Herausgeber der Meldung:
aviationscouts GmbH
Wendenstr. 40
96215 Lichtenfels
Telefon: +49 (0)9571 947907-0
Telefax: +49 (0)9571 947907-25
http://www.aviationscouts.com
Ansprechpartner:
Filiz Kasim-Herr
Marketing Manager
Telefon: +49 (0)9571 947907-22
E-Mail: filiz@aviationscouts.com
Für die oben stehende Pressemitteilung ist allein der jeweils angegebene Herausgeber (siehe Firmenkontakt oben) verantwortlich. Dieser ist in der Regel auch Urheber des Pressetextes, sowie der angehängten Bild-, Ton-, Video-, Medien- und Informationsmaterialien. Die United News Network GmbH übernimmt keine Haftung für die Korrektheit oder Vollständigkeit der dargestellten Meldung. Auch bei Übertragungsfehlern oder anderen Störungen haftet sie nur im Fall von Vorsatz oder grober Fahrlässigkeit. Die Nutzung von hier archivierten Informationen zur Eigeninformation und redaktionellen Weiterverarbeitung ist in der Regel kostenfrei. Bitte klären Sie vor einer Weiterverwendung urheberrechtliche Fragen mit dem angegebenen Herausgeber. Eine systematische Speicherung dieser Daten sowie die Verwendung auch von Teilen dieses Datenbankwerks sind nur mit schriftlicher Genehmigung durch die United News Network GmbH gestattet.