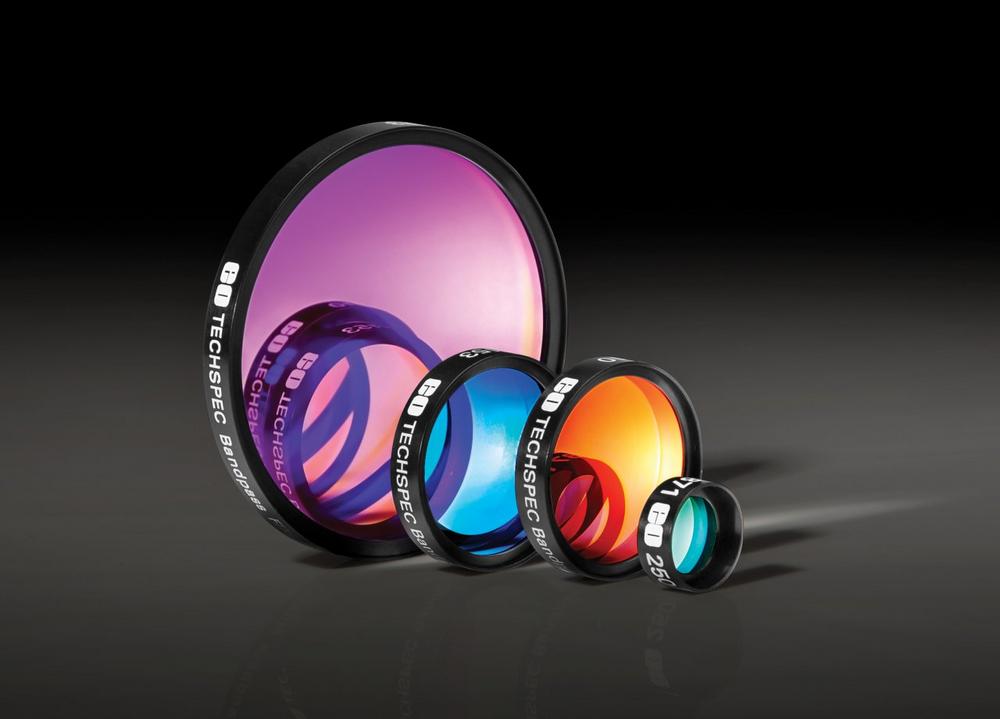 Edmund Optics® (EO), the premier provider of optical components, introduces new
TECHSPEC® Hard Coated OD 4.0 5nm Bandpass Filters
. These versatile filters provide the high transmission and deep rejection necessary to isolate narrow spectral regions for use in a wide variety of applications.
Center Wavelengths Available from 343nm to 1064nm
TECHSPEC® Hard Coated OD 4.0 5nm Bandpass Filters exhibit a narrow 5nm Full-Width Half Max (FWHM), making them ideal for laser line clean-up applications. They allow for improved signal-to-noise ratio when compared to those achievable with wider band filters and may also be used in elemental or laser line separation, chemical detection, or fluorescence applications. These precision bandpass filters offer 80-50 surface quality and center wavelengths from 343nm to 1064nm, covering 2nd and 3rd harmonic Nd:YLF and Nd:YAG lasers, diode lasers, and HeNe lasers. TECHSPEC® Hard Coated OD 4.0 5nm Bandpass Filters provide a blocking wavelength range of 200-1200nm and >85% minimum transmission. Hard Coated OD 4.0 Bandpass Filters are available in 12.5mm, 25mm, and 50mm diameter options.
Steep Transmission and Rejection Slopes
TECHSPEC® Hard Coated OD 4.0 5nm Bandpass Filters are manufactured with durable hard coatings to minimize filter degradation and increase transmission. With a variety of UV, VIS, and NIR laser lines available, these filters offer steep blocking and transmission slopes to achieve the highest performance in a wide variety of demanding applications. TECHSPEC® Hard Coated OD 4.0 5nm Bandpass Filters are in-stock and available for immediate delivery.
Über Edmund Optics
Edmund Optics® is a leading supplier of optics, imaging, and photonics technology for the Life Sciences, Biomedical, Semiconductor, R&D, and Defense markets around the globe. EO designs and manufactures a wide array of multi-element lenses, lens coatings, imaging systems, and optomechanical equipment, while supporting OEM applications with volume production of both stock and custom products. EO's state-of-the-art manufacturing capabilities, combined with its global distribution network, has earned it the position of the world's largest supplier of off-the-shelf optical components. Customers can purchase items by calling 1-800-363-1992, via the catalog or the website at www.edmundoptics.com.
Firmenkontakt und Herausgeber der Meldung:
Edmund Optics
Isaac-Fulda-Allee 5
55124 Mainz
Telefon: +49 (6131) 5700-0
Telefax: +49 (6131) 2172-306
http://www.edmundoptics.de
Ansprechpartner:
Lisa Lunkenheimer
Marketing Project Manager
Telefon: +49 (6131) 5700-086
Fax: +49 (6131) 2172306
E-Mail: LLunkenheimer@edmundoptics.de
Für die oben stehende Pressemitteilung ist allein der jeweils angegebene Herausgeber (siehe Firmenkontakt oben) verantwortlich. Dieser ist in der Regel auch Urheber des Pressetextes, sowie der angehängten Bild-, Ton-, Video-, Medien- und Informationsmaterialien. Die United News Network GmbH übernimmt keine Haftung für die Korrektheit oder Vollständigkeit der dargestellten Meldung. Auch bei Übertragungsfehlern oder anderen Störungen haftet sie nur im Fall von Vorsatz oder grober Fahrlässigkeit. Die Nutzung von hier archivierten Informationen zur Eigeninformation und redaktionellen Weiterverarbeitung ist in der Regel kostenfrei. Bitte klären Sie vor einer Weiterverwendung urheberrechtliche Fragen mit dem angegebenen Herausgeber. Eine systematische Speicherung dieser Daten sowie die Verwendung auch von Teilen dieses Datenbankwerks sind nur mit schriftlicher Genehmigung durch die United News Network GmbH gestattet.